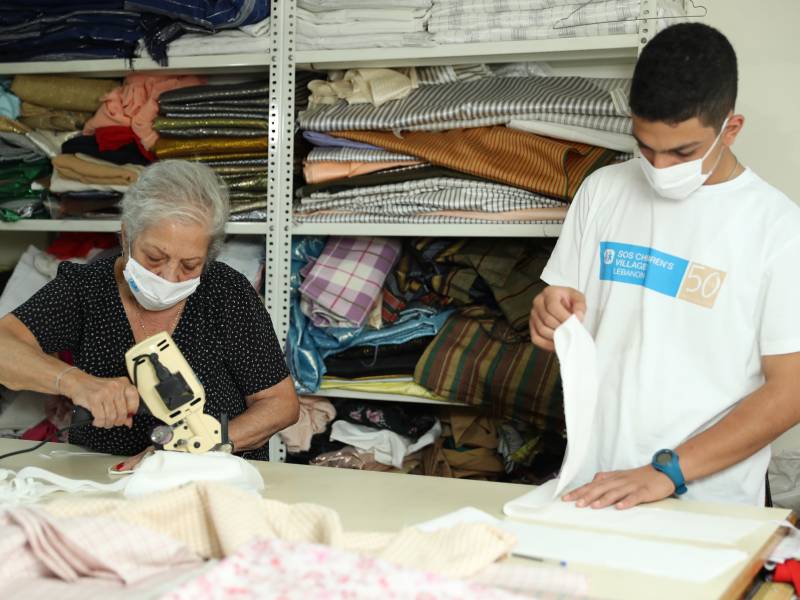 The Handicraft Atelier
In 1987, SOS Lebanon founded a handicraft atelier to help mothers, who are the main providers in their households, to generate income and keep their families united. When it was first founded, the atelier included 20 ladies who had at least some basic sewing knowledge. Since then, the atelier evolved greatly but the one thing that still persists is our signature "folkloric doll" designed by the famous Papou Lahoud Saadeh who assigned one Lebanese Folkloric outfit to five different couples of dolls based on the characteristics and traditions of each of the five Lebanese governorates.
Today, eleven ladies who are the main supporters of their families work in our atelier, some of which have been with us since the initial establishment of the atelier. In addition, to the folkloric dolls, the atelier produces traditional abayas, purses, different types of cosmetic bags, regular and embroidered table linens, a variety of towels and bathrobes for children and adults, and many other items. SOS artisanal atelier is also well known for being able to produce customized items such as souvenirs for births, marriages, and more. The products are sold in various artisanal shops and in the atelier itself, in Sin el Fil – Jisr el Bacha. Our ladies and products participate in annual exhibitions dedicated to the sale of these items and we can proudly say that our products have reached an international level. In 2020, we added a new and necessary item thus playing a part in the fight against the COVID-19 pandemic: the reusable face mask, carefully made according to the WHO specifications.
In the atelier, the ladies work in an environment of cooperation and love. This is a place where there is always laughter, and shared stories… Our atelier is not only a workplace. It is a large family where love is an essential element.
Hand in hand, we sew hope.